I am a biologist-turned-artist, and I think the methods I naturally employ in making my work are very much influenced by this background. I am an observer and analyst of my surroundings, and a collector of the remnants of ordinary life.
The comparative advantage of an artistic analysis is that it allows for a subjective, critical mix of humor, irony, and beauty. It allows me to be an archaeologist of the present and an anthropologist of my own culture.
In the presentation I will elaborate on this process and the work that results.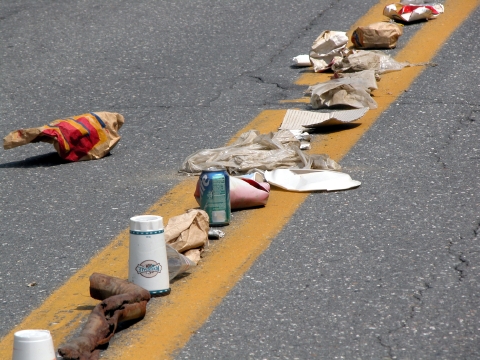 Some examples are the performative intervention "Country road" and the video "Natural refuge." During a summer residency in Skowhegan, Maine, in the United States, I would frequently walk the couple mile stretch of road from the isolated countryside cabins and studios of the residency program to the nearest small crossroads where there was a tiny store. During these walks I started realizing that, although the vegetation-covered roadside and adjacent woods would seem pristine and idyllic to people passing by in cars, the reality was that these areas were strewn with garbage, much of which appeared to have been there for quite some time. I decided to make it visible with a simple gesture. I took all of the trash from the roadsides and lined it up in the center of the road along the double yellow line.
During this action, which took place during one entire morning, I realized that many times when I lifted up a piece of plastic or metal from the ground beside the road, that I disturbed insects or other animals that had taken up residence underneath. Our refuse had become so incorporated into this natural setting, that in some cases it had become useful. My act of cleaning up was therefore neither good nor bad (or was both good and bad). Revealing this contradiction was the aim of "Natural refuge" which simply shows my hand lifting pieces of trash, and the displaced creatures scurrying for cover in response.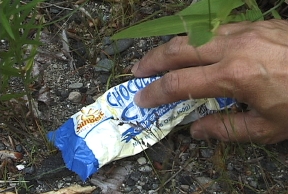 Another example is the video "Más me dan." I am one of those people who never throw anything away. Plastic bags are useful and so I keep them. At some point I had the realization that my rate of accumulation was simply outpacing my ability to re-use plastic bags, in part because they are so durable. Plastic is also a very beautiful material, the colors are bright and saturated, and companies take advantage of these assets to advertise. So I started realizing that if I looked carefully at the bags in my closet, they had their own story to tell about consumption and marketing and a culture of convenience.
The resulting performative video shows my hands, against a black background, opening a nested series of plastic bags, each one different and smaller, much as in Matryoshka dolls. The video opens with a typical black plastic garbage bag, works it's way through a representative selection of the colorful bags from my collection, and ends with a tiny bag of the same black plastic as the first one.
"Más me dan" (They give me more) takes its title from one of the smallest bags in the series, labeled with the name of a one of the largest pawn shops in Panama City.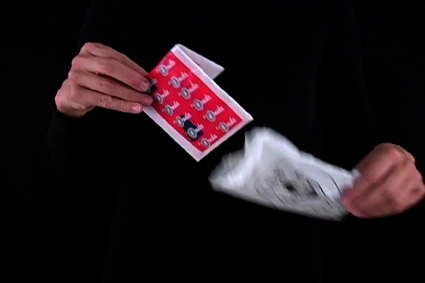 Donna Conlon (U.S.A., 1966) lives and works in Panamá City, Panamá. In 1991 she received a Masters degree in biology from the University of Kansas (USA) and in 2002 earned a Master of Fine Arts degree from the Rinehart School of Sculpture (Maryland Institute College of Art, Baltimore). Although she began her artistic career as a sculptor, in recent years she has worked with video, installation, photography, and performance art. In 2001 she was selected for the exhibition Sculptors at Work at the Corcoran Gallery of Art in Washington, D.C. In 2003 she was awarded the Residency Prize at the Caribbean Biennial (Dominican Republic) with the videos Country Road and Natural Refuge, and also received Second Prize in the First Central American Emerging Artists Exhibition at the Museum of Contemporary Art and Design in Costa Rica for her videos Untied and Coexistence.
In 2004 Conlon received First Prize at the IV Biennial of Visual Arts of the Central American Isthmus, held at the Museum of Contemporary Art in Panamá for her video Urban Phantoms. She was also selected by Guatemalan curator Rosina Cazali to participate in the seventh Panamanian Biennial of Art (2005).
In 2005 Conlon participated in the 51st Venice Bienniale (Italy) in the exhibition Always a Little Further, curated by Rosa Martínez, as well as in the exhibition of the Italo-Latin American Institute, Warp and Weft, curated by Irma Arestizábal. Her work has also been shown in Ecuador, Spain, Australia, Taiwan, Switzerland, Belgium and the Netherlands, among other countries.