breakcore / hardcore / grindcore hybrid.
amen blast beats, guitar soundwalls, screaming, cohesive structure, electronic tension and release.
Aaron Spectre started out playing drums in central Massachusetts hardcore bands at age 16. At 19 he moved to New York City and began DJing and producing Jungle, Drum & Bass, and Ambient music. He moved to Berlin at 23, released several sold-out vinyl 12″s, and began touring on the strength of his live sets. Aaron started Drumcorps at 24,
adding live guitar to his sets, as always bringing raw energy and enthusiasm from his hardcore days. He's since maintained a ferocious tour schedule throughout Europe, North America, and Japan, building a solid fanbase the hard way.
Aaron's recent Drumcorps album Grist won an award of distinction at Austria's Prix Ars Electronica, a yearly prize whose past winners include Aphex Twin, Chris Cunningham, Peter Gabriel, Sunn ((O))), Plastikman, and Gescom. Aaron's new melodic album Lost Tracks just released on Germany's Ad Noiseam.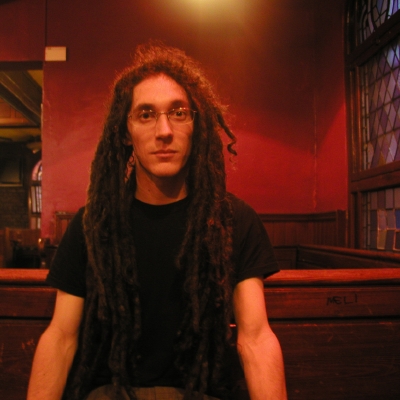 "this one scared me within an inch of my life…" - Mary Anne Hobbs, BBC Radio 1
"like Dillinger Escape Plan with Venetian Snares on drums… fucking amazing" Aquarius Records
"modern grindcore / metal filtered through electronic music… a hugely entertaining and intense record that fuses the two genres" - Rock a Rolla Magazine UK
Selected Performances
•Glade Festival (UK) w/ Autechre, Clark, Tim Exile, Luke Vibert
•Sonic Acts (Netherlands) w/ The Bug, Hrvatski, DJ /Rupture, Drop The Lime, Vex'd
•Club Transmediale (Germany) w/ Orthrelm, Otto von Schirach
•Milk (Japan) w/ Melt-Banana, Jason Forrest
•& various others w/ Venetian Snares, Soundmurderer, Enduser, Remarc
Current Releases
•Drumcorps - "Grist" - ADN79/VROCK010 12″ EP - Ad Noiseam / CRD (Germany)
•Drumcorps - "Grist" - ADN70/CROCK013 CD - Ad Noiseam / CRD / Cargo (Germany/UK)
•Drumcorps - "Live and Regret" - VROCK008 12″ - Cock Rock Disco / Cargo (Germany/UK)
•Drumcorps - "Rmx or Die" - KRISS02 10″ - Kriss (Netherlands)
•Aaron Spectre - "Evil Most Foul" - D$R12 12″ - Death$ucker (UK)
•Aaron Spectre - "Amen, Punk" - OMEKO06 12″ - Electro-Violence (Japan)
•DJ C + Aaron Spectre - "Conscience a Heng Dem feat. Capleton" - MASHIT001 12″ - Mashit (USA)
•w/ Math Head, Drop The Lime - "Bonafidekilla (Aaron Spectre mix)" - RED002 CD & 12″