http://www.fishandchips.uwa.edu.au
Guy Ben-Ary is an artist and researcher (Part of The SymbioticA Research Group) whose work uses emerging medias, in particular biologically related technologies (tissue culture, electrophysiology and optics). His work focuses on cybernetics, the boundaries between the living and non-living and focuses attention regarding the use and future possibilities of biotechnology. In his talk Guy will present two of the projects he has been involved with in the past few years.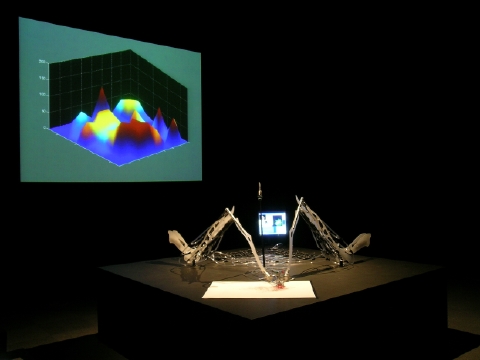 "MEART – the Semi Living Artist" is bio-cybernetic research and development project. MEART is a geographically detached artist that is distributed between two locations in the world. Its "brain" consists of cultured nerve cells that grow in a neuro-engineering lab, in Atlanta. Its "body" is a robotic drawing arm that is capable of producing two-dimensional drawings. The "brain" and the "body" communicate in real time with each other for the duration of an exhibition.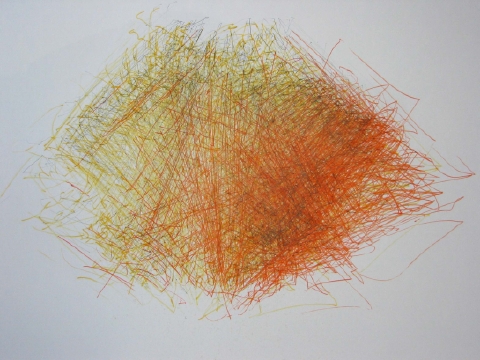 "The living Screen" project produces new poetics, made possible by fusing bio-technology into a living cinematic apparatus. This work explores what occurs when we cinematically engage with a living screen and employs film theory to understand Bio-Art as a Freak Show'. The Nano-Movies are projected (projection is 200 microns square in size) on Living Screens made from skin, blood, sperm or cornea cells that transform, react and change over time and eventually die. Therefore, it contorts the projected Nano-Movie in – unknown ways, and confront the spectators with issues such as life, death, virtuality and reality.
—–
Guy Ben-Ary
Artist & researcher, working in the area of art & biology. Currently living and working in West Australia. Guy is an artist in resident in SymbioticA – The Art & Science Collaborative Lab at the University of Western Australia, since 2000. Guy specializes in microscopy, biological & digital imaging & artistic visualization of biological data. His Main research area is cybernetics and the interface of biological material to man made devices. Member of the core SymbioticA Research Group that developed "MEART - the semi living artist" project (http://www.fishandchips.uwa.edu.au). Guy is also a member of the "Biokino" collective that is developing the "living screen" project (Http://www.biokino.net). He collaborated with the Tissue Culture & Art Project for 4 years (1999 - 2003). Guy is undertaking a Masters course in the school of architecture landscape and visual arts, UWA.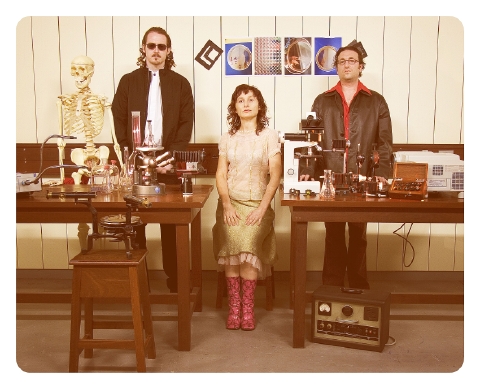 SymbioticA
http://www.symbiotica.uwa.edu.au

- winners of the inaugural Golden Nica for Hybrid Arts in the Prix Ars Electronica, 2007.
SymbioticA is a research facility dedicated to artistic inquiry into new knowledge and technology with a strong interest in the life sciences. SymbioticA has resident researchers and students undertaking projects that explore and develop the links between the arts and a range of research areas such as neuroscience, plant biology, anatomy and human biology, tissue engineering, physics, bio-engineering, museology, anthropology, molecular biology, microscopy, animal welfare and ethics.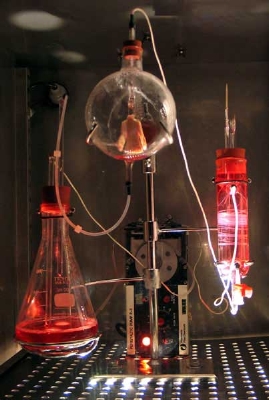 Oron Catts
Having access to scientific laboratories and tools, SymbioticA is in a unique position to offer these resources for artistic research. Therefore, SymbioticA encourages and favours research projects that involve hands on development of technical skills and the use of scientific tools.
The research in SymbioticA is speculative in nature. SymbioticA strives to support non utilitarian, curiosity based, and philosophically motivated research.
In broad term the research ranges from identifying and developing new materials and subjects for artistic manipulation, researching strategies and implications of presenting living art in different contexts, and developing technologies and protocols as artistic tool kits. Some of the projects in SymbioticA are also very relevant to scientific research and the complexity of art and science collaborations is intensively explored.
S. Chandreasekaran
Areas of continued research
• Art and Biology
In broad terms the main focus of research in SymbioticA is to do with the interaction between the life science, biotechnology, society and the arts. As an area of growing interest, SymbioticA is well positioned as one of the major international centres researching and developing art and biology projects. Beside the support for hands on art and biology projects, SymbioticA has already hosted philosophers, anthropologists and social scientists for short and long term research projects into art and biology.
• Art and Agriculture/ Art and Ecology
As a subset of art and biology and through the strong connections with the Faculty of Agriculture and natural Sciences, SymbioticA is interested in research in the somewhat contradictory areas of agriculture and ecology.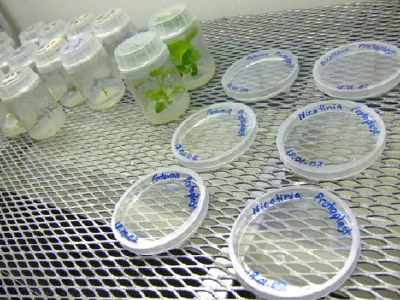 Hege Tapio
• Bioethics
As part of the engagement with debate over the implications of developments in the life sciences with culture and society; SymbioticA encourage research into the ethics of manipulating living systems for utilitarian, speculative and seemingly frivolous ends. Art can act as an important catalyst for ethical exploration. In addition some of the research in SymbioticA attempts to approach bioethics form a secular non-anthropocentric perspective.
• Neuroscience
SymbioticA has a long involvement with neuroscience as it is one of the main research areas of SymbioticA's scientific director Prof. Stuart Bunt. Projects that deal with neuroscience and robotics are of particular interest. See www.fishandchips.uwa.edu.au
• Tissue Engineering
SymbioticA have built a reputation as the leading laboratory that investigates the in vitro growth and manipulation of living tissue in three dimensions. The work of The Tissue Culture & Art Project, and many other subsequent projects, guided the developments of protocols and specific techniques of tissue engineering.
• Bioreactor
The development of a life sustaining device for tissue engineered art is an area of investigation that requires expertise in diverse knowledge pools from biology, through engineering and fluid dynamics to art and display strategies. Artists in SymbioticA and scientists from the School of Anatomy and Human Biology have been researching the development of an "artistic" bioreactor for the last five years.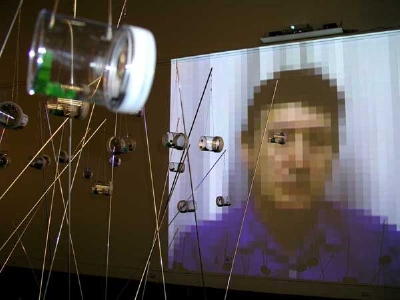 Nigel Helyer